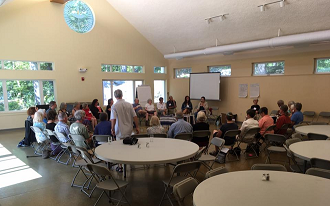 Harvard Happy, Joyous & Free (Harvard HJF) hosts a weekly Daily Reflections discussion meeting on Saturday in Harvard at UUC Fellowship Hall (GoogleMaps).

The Harvard HJF group was formed ~1995 and until 2020 met at St. Theresa's before relocating to its current space (post COVID).

Harvard HJF meetings are open — all are welcome to attend but only alcoholics may participate*. Each meeting opens with the AA Preamble and closes with the Lord's Prayer. The group embraces the 12 Steps and 12 Traditions of Alcoholics Anonymous.

Harvard HJF is part of District 26 and Area 30 in eastern Mass. and is registered with GSO in New York, Boston Central Service, and Worcester Area Intergroup.

*To join Harvard HJF, see the group secretary. For a site login: click here. To login: click here.
Zoom setup for laptop/TV: CLICK HERE.